Sponsored by Ready Player One. Soon to be a major motion picture directed by Steven Spielberg.
It's been a stellar year for science fiction and fantasy adaptations—and we're only halfway through the year!
Summer television has brought us Margaret Atwood's Handmaid's Tale (Hulu), Neil Gaiman's American Gods (Showtime), and Stephen King's The Mist (Spike). And with George R.R. Martin's Game of Thrones (based on A Song of Ice and Fire series) back on HBO for its season seven, why even bother with the beach this season?
Check out some of the upcoming book-to-screen adaptations below. Which ones are you most excited about? And which books do you still need to catch up on?
COMING SOON:
The Dark Tower
August 4
Get ready: This is the movie many of you have been eagerly or anxiously anticipating. Stephen King's epic fantasy will star Matthew McConaughey, Idris Elba, and Katheryn Winnick.
Death Note
August 25
Based on the Japanese manga written by Tsugumi Ohba and Takeshi Obata, a high school student comes across a supernatural notebook that has the power to kill. The movie stars Lakeith Stanfield and Willem Dafoe.
Outlander (Starz)
September 10
Season three of Diana Gabaldon's adapted series will follow Voyager, as Claire and Jamie struggle to reunite with each other across time (the 1960s and the 1700s, to be more precise). It stars Caitriona Balfe and Sam Heughan.
The Shannara Chronicles (Spike)
October
Season two of this Terry Brooks' adaptation is moving from MTV to the Spike Channel and picks up a year after the events of the first season with The Four Lands in chaos as magic users are hunted down.
A Wrinkle in Time
March 9, 2018
Director Ava DuVernay (best known for Selma) brings Madeleine L'Engle's classic alive in this Disney's fantasy epic starring Chris Pine, Mindy Kaling, Reese Witherspoon, and Oprah Winfrey.
Ready Player One
March 30, 2018
Steven Spielberg will direct Ernest Cline's homage to the 1980s and video games set in a very bleak American future. It stars Hannah John-Kamen, Mark Rylance, and Ben Mendelsohn.
AWAITING RELEASE DATES:
Annihilation
2018
This film is based on Jeff VanderMeer's 2015 Nebula Award-winning book about a biologist who signs up for a dangerous, secret expedition; it will star Natalie Portman and Jennifer Jason Leigh.
The world ends on Saturday and the armies of Good and Evil are amassing in this comic novel by two of fantasy's favorite authors, Terry Pratchett and Neil Gaiman. Gaiman is adapting the novel into a six-episode series.
The first book in Richard K. Morgan's 25th-century world of the Takeshi Kovacs series—where people's consciousnesses can be stored and downloaded into new bodies—is slated to air on Netflix next year.
The Syfy Channel's adaptation of James S.A. Corey's solar system colonization series, The Expanse, will return for season three in early 2018.
Matt Ruff's novel that imagines Jim Crow America melded with Lovecraftian horror and fantasy
is getting the TV-series treatment with Get Out director (and comedian) Jordan Peele heading up the adaptation.
Nnedi Okorafor's supernatural fantasy of post-apocalyptic Africa is slated to air as an HBO series with none other than George R.R. Martin signing on as an executive producer.
Many know of Andrzej Sapkowski's Witcher saga because of its wildly popular video game adaptation. Next, the mutated monster hunter is coming to Netflix.
The AMC network is poised to turn Dan Simmons' creepy thriller into a 10-episode TV series that will follow explorers in 1847 seeking the Northwest Passage—and instead finding a mysterious predator.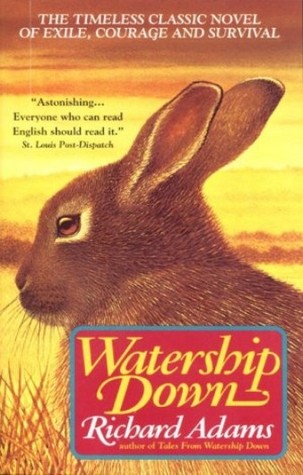 The BBC is partnering with Netflix on this new animated mini-series based on the beloved Richard Adams classic. It will star James McAvoy, John Boyega, and Ben Kingsley.
Kvothe may have a long journey to a movie or TV screen near you. But the Patrick Rothfuss' series has been picked up by Lionsgate and Hamilton star Lin-Manuel Miranda, who are working on the adaptations.
See the complete coverage of Sci-Fi & Fantasy Week including:
Top 50 Favorite Fantasy Novels on Goodreads
Author Kim Harrison's Favorite Fantasy Series
Top 50 Science Fiction Books on Goodreads

posted by Cybil
on July, 28